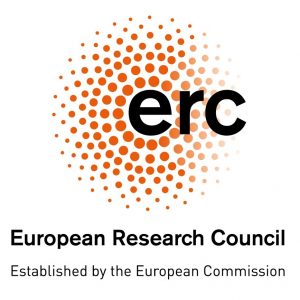 ERC MARCHES – Modelling of Architectures Ruled by Coupled or Heightened Excited States
The MARCHES ERC was led by Denis JACQUEMIN and aimed to develop and apply theoretical tools to optimize multi-photochromic molecular systems. MARCHES has been funded by a 1.5 M€ ERC Starting Grant (n° 278845, 2012-2016), complemented by a 0.1 M€ regional support (Région Pays de la Loire).

4-year project
2012 - 2016
228
person-months effort over the 4 years
The goal of the MARCHES project is to rationalise and optimize the interplay between electronically excited-states in complex molecular architectures.
The simulation of the properties of large conjugated architectures is to be performed with ab initio tools explicitly taking into account environmental effects.

Though efficient methods able to tackle such task are to be conceived during this project, we aim to enlighten coupled excited-states so to pave the way towards chemically-intuitive designs of new molecules. Indeed, the rationalisation and optimisation of the excited-state properties of large compounds is not only one of the major challenges of computational chemistry and physics, it also opens new horizons for emergent properties.
In that framework, this project will allow to design molecular switches usable as building blocks for complex logic gates, subsequently unlocking crucial steps towards more efficient storage materials. To this end, compounds containing several photochromic switches coupled at the excited state have to be designed: this is an important challenge. Indeed, photochromes are actually limited to uncoupled or simply additive systems: emergent multi-addressable features are impossible to achieve.
Denis JACQUEMIN

Professor at University of Nantes
Project leader
Gaëlle RODRIGUEZ

Project Manager
Administrative and financial management
(2012 – 2015)
Élodie GUILLON
Project Manager
Administrative and financial management (2016)
Aymeric BLONDEL

Engineer
Cluster supercomputing
Adèle LAURENT

CNRS researcher
WP2-3
Azzam CHARAF-EDDIN

PhD student
WP1 (2012 – 2013)
Agisilaos CHANTZIS
PhD student
WP1 (2012 – 2014)
Simon BUDZAK
PhD student
WP1 (2015 – 2016)
David MENDIVE-TAPIA
PhD student
WP3 (2013 – 2014)
Arnaud FIHEY
PhD student
WP3 (2014 – 2016)
Daniel ESCUDERO-MASA
PhD student
WP4
Anouar BELHBOUB
PhD student
WP4 (2016)
Siwar CHIBANI
PhD student
WP1 (2012 – 2015)
Ymène HOUARI
PhD student
WP2 (2012 – 2015)
Kathy J.CHEN
PhD student
WP4 (2013 – 2016)
Titouan JAUNET-LAHARY
Trainee
WP3 (2014)
Cloé AZARIAS
Trainee
WP2 (2014)