Elemental analyzer for quantitative dosage of C, H, N and S elements (Flash 2000 de Thermo Scientific)
Flash 2000 apparatus from ThermoFisher Scientific for the simultaneous analysis of carbon, nitrogen, oxygen and sulfur in 1 mg of solid or liquid sample. Sample are analysed two times.
Principle
The sample (1 mg – microgramme precision) is pyrolize under oxygen at 960°C.
Nitrogen, carbon, hydrogen and sulphur are, by a succession of reactions, oxidized in carbon dioxide, water, dinitrogen and sulphur dioxide. These gases are then separated by column chromatography, detected by a cathetometer and quantified by integration of the resulting peak from the conduction variation of the so-called cathetometer.
The viability of the result is established at the end of the analysis by a standard.
On stable and clean products, the percentage given by the analyser is more or less 0.4% of the calculated pourcentages. (absolute accuracy = 0.2 %).
Method: Particle size analysis using dynamic light scattering (DLS) (CPER CISPEO)
Device: Cordouan VascoKin™
170° back-scattering working mode, volume range 50 µL-4 mL
Accessories:
659 nm excitation laser diode head
APD detection (dead time 35 ns, pulse width 14 ns, afterpulse < 1%)
Tête de mesure déportée
Gamme de tailles : 0,5 nm à 10 um
Concentration : 1.10-5 à 40 % massique
Résolution temporelle : 200 ms
Atomic Absorption Spectroscopy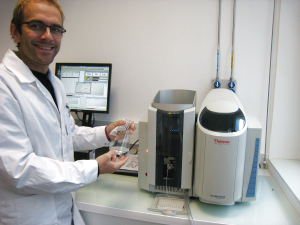 Atomic Absorption Spectrometer THERMO SCIENTIFIC ICE 3300
Flame "Air/Acetylene" or "Nitrous Oxyde/Acetylene"
Analysis with Flame Air/Acetylene:
Li, Na, Mg, K, Ca, Cr, Mn, Fe, Co, Ni, Cu, Zn, Ga, Ge, Rb, Sr, Ru, Rh, Pd, Ag, Cd, In, Sn, Sb, Te, Cs, Ba, Ir, Pt, Au, Hg, Tl, Pb, Bi.
Available lamps in the lab : Pb, Fe/Ni, Na/K, Ca/Si, Cd/Zn, Mg, Ag, Ga, Sn, Cu and Pd.
Analysis with Flame Nitrous oxide /Acetylene :
Be, B, Al, Si, P, Ca, Sc, Ti, V, Cr, Ga, Ge, As, Se, Sr, Y, Zr, Nb, Mo, Rh, Sn, Ba, La, Hf, Ta, W, Re, Os, Pr, Nd, Sm, Eu, Gd, Tb, Dy, Ho, Er, Tm, Yb, Lu, Th, U.
Available lamps in the lab : Ca/Si, Ga, Sn, Gd, As, P, Ho, Ti, Zr and Pt.
Operation CPER "CEISAM Atomic Force Microscope" of the CISPEO project is cofunded by the European Union through the funds of the region Pays de la Loire (FEDER) .

ATOMIC FORCE MICROSCOPE JPK NanoWizard®4 combined with NIKON Ti2-U inverted optical microscope
Measuring mode :
Contact.
Dynamic.
Force Modulation (QI Advanced TM mode).
Kelvin Probe Force Microscopy (KPM mode).
Sample holder :
Temperature module (-30°C to +120°C +/- 0.1°C) designed for opaque samples (JPK HCM TM ). Sample size : 15x15 mm. .
Temperature module (RT to +60°C +/- 0.1°C) designed for transparent samples (PetriDishHeater TM ). Compatible with 35 mm Petri dishes.
Inverted Microscope :
Objective:
Nikon CFI S P-Fluor ELWD 60xC/ 0.95/WD : 0,21-0,11mm.
Nikon CFI S P-Fluor ELWD 40xC/ 0.95/ WD : 0,25-0,16mm.
Nikon CFI Plan Apochromat Lambda 20X/ 0.75/ 1,00 mm.
LED Source.
Fluorescence filters :
DAPI-50LP-A.
FITC-3540C.
Cy3-4040C.
Cy5-4040C.
Isolation:
JPK acoustic enclosure with Accurion's Halcyonics i4 acitve vibration isolation system.
operation
Le microscope à Force Atomique est adapté aux échantillons inorganiques - organiques - biologiques – sous air ou en milieu liquide.
Les mesures sont réalisées par François-Xavier LEFEVRE.
Staff
François-Xavier LEFEVRE
Office 240
Phone: +332 51 12 54 05
Link