Staff
Anaïs GOUPILLE
Office 030
Phone 02 51 12 55 66
Eléna ISHOW
Office 204
Phone 02 51 12 53 75
Some optical spectroscopy equipment are co-funded by the European Union in the framework of CPER CISPEO project.

Bruker Vertex 70
Equipment mainly used for ModES team research activity and available for analysis requests.
Measurement range: 4000-400 cm-1
Equipped with a far infrared separator allowing reflexion measurements up to 120 cm-1
Possibility to realise measurements at constant temperatures: two Peltier effects, respectively  for FH-01  and QX cells
Steady-state spectrofluorometer Fluorolog 3 (Horiba) equipped with double-grating excitation and emission monochromators, Spectral range : 200 - 850 nm
Accessories:
excitation monochromators blazed at 330 nm
emission monochromators blazed at 500 nm
right angle detection mode
front face detection mode
holder for thin film samples
holder for powder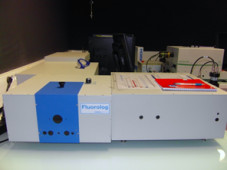 Spectrofluorometer (Jobin-Yvon Horiba FluoroMax-3)
Fluotime 300 (Picoquant) -  Spectral range  : 300 - 720 nm
Accessories:
    TimeHarp 260 PICO acquisition with temporal resolution from 25 ps to 5.2 ms (time bin 25 ps)
    Emission and excittation Glan Thompson polarizers (220-1500 nm)
    Holder for thin film samples
    Laser diode head at 450 +/- 10 nm (fwhm < 70 ps)
    LED head at 340 +/- 5 nm (fwhm < 800 ps)
    Laser LED source pulsed on 640 ± 10 nm (fwhm < 90 ps) (CPER CISPEO)
    Couplage fibré à un microscope (CPER CISPEO)
Method: Epifluorescence microscopy
Nikon Eclipse TI
Accessories:
Four-color illumination source SCOPELED (λexc = 390 ± 8 nm ; λexc = 470 ± 16 nm ; λexc = 540 ± 21 nm ; λexc = 640 ± 10 nm)
Objectives 10x plan apo, 40x S-fluor (NA = 0.9), 60x plan apo (NA = 1.4), 100X plan apo (NA = 1.45) (CPER CISPEO)
Montage polariseur-analyseur croisés
Bras d'illumination latéral (CPER CISPEO)
Platine motorisée avec encodeur (résolution xy 100nm) (CPER CISPEO)
Color camera DS-Fi2 Nikon (1280x960 matrix - pixel size 3.5µm x 3.5 µm)
Black and white camera Neo sCMOS ANDOR (2560x2160 matrix - 16µ x 16µm pixel size, rolling shutter and global shutter modes)
Spectromètre IsoPlane 160 (f/3.88, focal length 203 nm) ; réseaux blazés à 500 nm ; caméra CCD Pylon-100BRX (CCD back illuminated deep depletion, 20x20 mm pixels, sensibilité spectrale 350-1050 nm)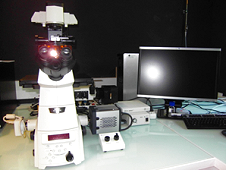 Accessories:
2-armed interferometric system
Linear and circular polarisation
Source laser argon 5W LEXEL multi-longueurs d''ondes
Watercooling
Fiber optic irradiation lamp
Lightningcure LC8 (Hamamatsu), spectral range: 254-600 nm
Accessories:
Programmation en temps et en intensité d'irradiation
Fibre optique en quartz
Filtres passe bande étroite en excitation (365 nm, 435 nm, 488 nm, 550 nm)
Filtre chaud
Collimateur rond et collimateur carré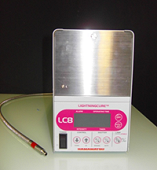 Perkin-Elmer 341 polariscope, lampes Hg, Na
ABET Technologies SUN 2000
Uniform light field 12'' x 12''
High optical efficience on 1KW/m2
Operating distance: 48''
Digital Shutter Timer
Method: High sensitivity portable fiber spectrometer
Sarfus optical imaging equipment Sarfus (Nanolane).
Automatic refractrometer 5 decimals (DUR-W2)
Dipolemètre (WTW DM 01)
density meter (Anton Paar DMA48)