Dans le domaine de la chimie hétérocyclique, notre équipe explore de nouvelles approches synthétiques présentant un intérêt en recherche fondamentale ou appliquée, permettant d'accéder à des motifs hétérocycliques insaturés ou saturés originaux.
Ces approches incluent d'une part la synthèse et la fonctionnalisation de systèmes hétérocycliques via des réactions clés (condensation multi-composants, fonctionnalisations régiosélectives, couplages métallo-catalysés, …) et d'autre part, le développement de nouvelles méthodologies de cyclisation ionique ou radicalaire, conduisant à des hétérocycles oxygénés polysubstitués saturés (THF et THP) ou insaturés (buténolides).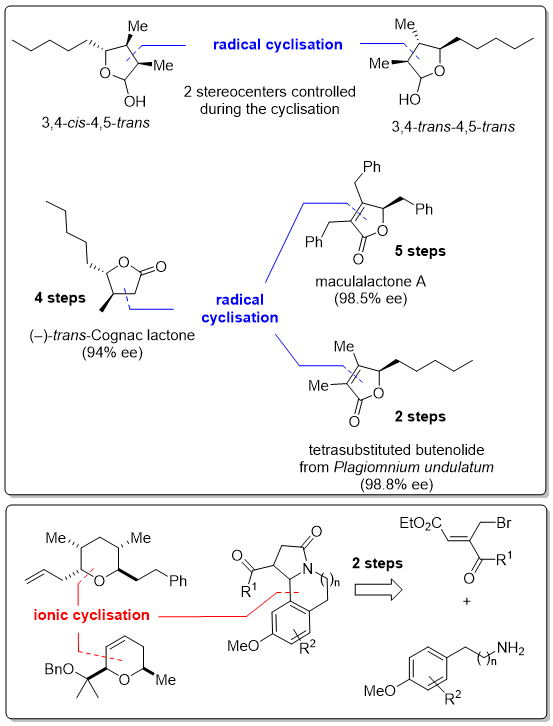 Given the rapid depletion of fossil fuels and the resulting climate change, this research thematic aims to develop new water oxidation catalysts (WOCs) for the production of "solar fuels". In this project, our investigations deal with the correlation between the performance and stability of the catalyst related to its geometric and electronic structure. In this context, this project aims to develop robust WOCs based on the recent successes of Ruthenium-based WOC.
The ligand design will be finely adjusted to optimize its catalytic efficiency and its turnover. A variety of functionalized ligands containing a combination of azaheterocycles substituted by anionic functional groups is used to improve the coordination sphere of the ligand for the Ruthenium metal.
Team members involved:
Didier DUBREUIL
Jacques LEBRETON
Muriel PIPELIER
Arnaud TESSIER
Collaborations
Institut of Chemical Investigations of Catalonia (ICIQ, Spain)
Selected articles
Our team has developed scientific cooperation for several years with the University of Tunis El Manar (Tunisia), the University of Annaba (Algeria) and more recently  with the Euro-Mediterranean University of Fez (Morocco). In this context, synthetic methodology aiming to access to original heterocyclic systems and to study their functionalization have been developed (multi-component condensation reactions, pallado-catalyzed couplings, regioselective halogenation ...).
Thus in collaboration with the university of Tunis El Manar, a BrØnsted acid-promoted intramolecular Friedel-Crafts cyclization on acylated pyrrol-2(5H)-one derivatives N-tethered to an electron-rich arene nucleus has been studied. Using this efficient methodology, various pyrrolo[2,1-a]isoquinoline and pyrrolo[2,1-a]benzazepine compounds have been prepared in a two-step sequence from the corresponding readily available ethyl (Z)-3-bromomethyl-4-oxo-4-phenylbut-2-enoate 2 or ethyl (Z)-3-bromomethyl-4-oxopent-2-enoate. (1. Synthesis, 2016).
Team members involved:
Virginie BLOT
SYlvain COLLET
Fabrice DÉNES
Virginie BLOT
Jacques LEBRETON
Monique MATHE-ALLAINMAT
Collaborations
Université de Tunis El Manar (Tunisie)
Financial support
ANR PCV GALCERDEO 2008-2012
ARC et Ligue contre le cancer
Financement aide Post-doctorants internationaux - Université de Nantes
Financement d'une thèse – réseau inter-régional transdisciplinaire  Glycoouest
Selected articles
SYNTHESIS, 2016, 48(10), 1502-1517. DOI: 10.1055/s-0035-1561398
RSC ADVANCES, 2015, 5 (49), 39324-39329, doi
The quest for new scaffolds possessing biological activities represents a challenge for pharmaceutical industry. The discovery of "leads" is a necessary and time-consuming process in the development of new drugs for medicinal applications. Therefore, the development of new methodologies allowing a rapid access to original skeletons from simple precursors is a topic of high interest, both on its fundamental aspect and for the synthetic applications that might arise from this work.
We have developed an original and robust access to g-lactols, methylene-g-lactols, and g-butenolides based upon the unprecedented radical cyclisation of a-haloaluminium acetals. We also develop original strategies based upon remote C–H bond functionalization to prepare versatile polysubstituted vinyl-cyclopentane derivatives, which are useful building block for the elaboration of more complex targets of interest for the group.
Team members involved:
Fabrice DÉNES
Jacques LEBRETON
LaurenceARZEL
Collaborations
IRCOF Rouen ; Universitãt Bern (Suisse)
Trinity College Dublin (Ireland)
Melbourne University (Australia)
Universidad de Valladolid (Spain)
Financial support
ANR JCJC Radic[Al] (2010-2014; 160 K€)) and ANR Blanc UZFUL-Chem (2013-18; 240 K€)
Programmes européens COST (CM1201 « Biomimetic Radical Chemistry » et CA15106 CHAOS « C--H Activation in Organic Synthesis »)
IEA (ex-PICS) CNRS « CasChem » 2018-2020 (15 K€)
Selected articles
This project proposes to explore a new approach to molecular recognition based on functional synthetic folded structures. A major trend both in chemistry and modern biology is the development of technologies that widen the structural and functional diversity of folded biopolymers beyond naturally occurring patterns. Interest in foldamer research stems from the fact that, if protein and other biopolymer structures may be mimicked, their functions may be mimicked as well and even further expanded, paving the way to countless applications. This project in collaboration with the group of I. Huc, focuses on eliciting various aspects of one function – namely molecular recognition in aromatic foldamers.
Artificial receptors are also an essential step to achieve enzyme-like catalysis. Capsules are a class of receptors that completely surround their guests and isolate them from the solvent. Along these lines, we have designed helically folded capsules based on sequences of aromatic amino-acids which code for a large helix hollow in the center and a narrow helix diameter at the end of the sequence. Preliminary proof of concept has been made for small guests in non polar solvents. We have bring this design to full scale receptors capable of encapsulating and releasing larger polar chiral organic guests in a controlled fashion in organic solvents or in water.
The vast potential of combining several monomers in foldamers is illustrated with the sequence Q3PN2-central unit-N2PQ3. Various aza-aromatic oligomers have been synthesized as potential central unit, like trimer pyr-pyz-pyr allowing stable encapsulation of tartric acid. Modification of central pyridazine (pyz) into pyrrole (pyl) by electrochemical ring contraction of pyd precursors modify the size of the central cavity of the foldamer and lead to a decreased affinity with tartric acid (Fig I A). (Pyr=pyridine, pyz= pyridazine, pyl=pyrole)
As main result, we showed that the structure-directed iterative optimization of an aromatic oligoamide enables rapid production of helically-folded containers that bind monosaccharide guests, arguably some of the most challenging targets in the field of molecular recognition. In just few iterations, an initial sequence with relatively poor guest selectivity was evolved into a receptor that has fully characterized atomic-scale complementarity for α-d-fructopyranose (Fig I B). This evolutionary approach thus emerges as a novel method to tailor receptors for predefined complex guests.
In another approach, we have define a new central unit pyz-pyr-pyz that allow the foldamer to fold, on demand, into helical capsule in the presence of metal ion. The part of the metal coordination sphere remains available and may then promote the binding of a guest within the cavity. After capture of metal ion with specific ligand, the pyz-pyr-pyz monomer promotes an extended conformation of the foldamer leading to guest release (Fig II).
Team members involved:
Didier DUBREUIL
Muriel PIPELIER
Virginie BLOT
Jacques LEBRETON
Collaborations
Ivan Huc UMR 5248- CBMN- Univ. Bordeaux-CNRS-Institut Polytechnique de Bordeaux-Institut Europ8en de Chimie et Biologie
Financial support
ANR BLANC 2009-2012
Thèse MESR 2012-2015
Selected articles